Raphael Recanati (1924-1999)


Raphael Recanati, after whom Reichman University's Raphael Recanati International School is named, was the founder and chairman of the Overseas Shipholding Group and chairman of the Israel Discount Bank from 1982 to 1986. He and his brothers, Danny and Yaacov, had founded the IDB Group, and Raphael continued to develop it until his passing in 1999. All three of them were instrumental in developing industry, transportation, high-tech, and the financial sector in Israel, with the goal of developing businesses that were in the interest of the new struggling nation headed by David Ben-Gurion and Minister of Finance Pinchas Sapir.
Born in Salonika, Greece, Raphael Recanati immigrated to Israel with his family in 1935, and later joined the Palmach and the Haganah. He served as an emissary in Egypt during the Aliyah Bet (clandestine immigration). During his lifetime, Raphael Recanati proved a steadfast philanthropist in the areas of medicine, education, and culture. This included contributing greatly to the establishment of the Rabin Medical Center, the Tel Aviv University School of Business, the University of Ben-Gurion School of Nursing, and others in Israel. In the United States, known beneficiaries of his generosity include the Beth Israel Medical Center, the Recanati/Miller Transplantation Institute at Mount Sinai Hospital, and the UJA-Federation of New York, among many others. Raphael Recanati was survived by his wife Dina (born Hettena) and two sons, Michael, who passed away in 2015, and Oudi.
Oudi Recanati
Chancellor, Reichman University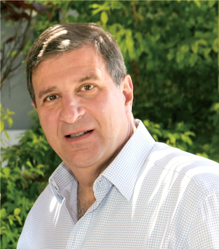 At the beginning of the academic year I am always amazed to see our freshman students, who hail from 90 countries, enter the Raphael Recanati International School filled with promise and ambition. Three years later, I have the pleasure of hosting these students at our home, where I am equally amazed by the growth and maturity they exhibit, their knowledge of Israel and its history, and their understanding of the miracle of the Zionist dream. These young men and women become the future leadership of the country, and of the Diaspora, endowed with the tools and knowledge to excel wherever life takes them.
I feel very fortunate to be part of this outstanding academic institution, which fills me with pride and hope for the future of Israel and the continuity of the Jewish people.