Inspired by Dr. Nati Marom's "Sustainable Development " course, our first-year students Eleanor Cohen and Nagastat Trunech thought about ways to raise awareness and promote the 17 U.N Sustainable Development Goals (SDGs) for 2030 on campus.
After consulting with the Dean of the Sustainability School, Prof. Yoav Yair, they decided to use the stairs of the Sustainability Building as an educational platform to add colors and value, each step representing a different SDG.
After weeks of efforts dealing with bureaucratic and logistic issues, Eleanor and Nagastat managed to make it on time and released the project on the very last day of the academic year, gathering students from both the Israeli and the International School, along with graduates and faculty members, to make a powerful impact on campus and leave a meaningful legacy for the future generations.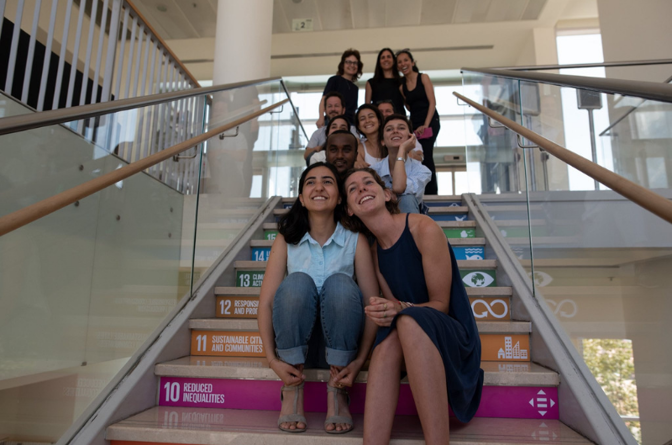 The 17 colorful stairs undoubtedly represent a milestone in the School of Sustainability, not only because of the physical aesthetics and the prominent message they intend to spread, but also and essentially because they echo the inherent symbolism shining from the initiative itself: that mutual help and genuine cooperation between people from all backgrounds are the key to reach common goals and make a real change.
Learn more about the 17 U.N Sustainable Development Goals (SDG) for 2030. click.

Link to the photo album, click.