A Major Step Towards Solving Israel's Shortage of Doctors: Reichman University will Establish the Country's First Private Medical School, Named for Dina Recanati
In order to help respond to the current shortage of physicians in Israel and immediately increase the number of medical students in the country, Reichman University Chancellor Mr. Oudi Recanati announced that a donation will be made from his family foundation to establish a medical school at Reichman University. Prof. Uriel Reichman, Founding President and Chairman of the Board of Directors of Reichman University: "The increasing shortage of doctors is placing the field of medicine in Israel in real danger and demands a quick response."

Herzliya, 2022. Reichman University will establish Israel's first private medical school, to be named for Dina Recanati. The growing shortage of doctors in the country is putting the entire field of medicine in real danger, necessitating a rapid response. In recent years, the rate of medical school graduates abroad has stood at 60% of all recipients of Israeli medical licenses.
According to Ministry of Health data from February 2021, the State of Israel has a record number of physicians who have been trained outside the country's borders.
Founding President and Chairman of the Board of Directors of Reichman University, Prof. Uriel Reichman, said, "Today we are announcing the beginning of a journey. A journey that will not take too long, and which at the end will see the establishment of a medical school named for Dina Recanati. It will be innovative and one of the leading medical schools of its kind in the world. The school will work in cooperation with all of the medical institutions in the country and with the Ministry of Health and will bring back Israelis who have been forced to pursue their medical studies in foreign institutions in countries around the world. We'll do it here at home. We will solve the problem of medical studies in this country, just as we solved the problem of jurists in the past. Oudi, I cannot thank you enough, on my behalf, on behalf of this university, and on behalf of the people who will be studying medicine here, for the enormous step you have taken today."
Reichman University Chancellor Mr. Oudi Recanati announced the donation by the Dina and Raphael Recanati Family Foundation, approved by the foundation board, to establish the medical school, saying, "I am excited to announce the establishment of a medical school for the next century, with the most advanced learning environment. My mother passed away ten months ago, and I thought that if there was already a school and dormitories here in my father's and brother's names, it would be appropriate for my mother's name to be represented here as well."
About Reichman University
Reichman University was founded in 1994 by Prof. Uriel Reichman to train the future leadership of the State of Israel. From the outset, the institution was modeled after the elite universities in the United States – it does not receive funding from the governmental budgetary system for higher education and is run as a public benefit corporation. Its expenses are funded exclusively by tuition and donations. The university's current president is Prof. Rafi Melnick.
Reichman University students are educated in light of the motto "Freedom and Responsibility," and alongside the emphasis placed on excellence in research and teaching, prominence is given to social responsibility and community involvement. Since its inception, about 34,000 graduates have earned their diplomas from Reichman University. There are currently 10 schools on campus, housing dozens of institutes and research centers, which offer degree tracks in law, business administration, computer science, government, diplomacy and strategy, communications, psychology, economics, sustainability, accounting and entrepreneurship. The Raphael Recanati International School was established on 2001 and since then is led by Jonathan Davis, VP for external relations.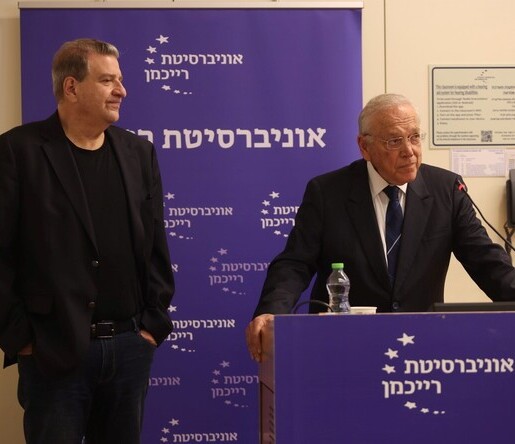 Pictured: Oudi Recanati and Prof. Uriel Reichman. (Credit: Eyal Gaziel)